You are invited to a Silent Auction: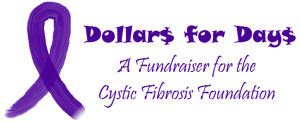 WHO
The Purple Ribbon Project (ie, a CF mom) and the Love Sweat & Gears Tandems 2015 Team are combining efforts to help raise funds for the Cystic Fibrosis Foundation. The event is geared toward adults, but alcohol is not allowed on site at all so kids are welcome (but the venue is small, so you may want to consider leaving your more energetic kids at home with a sitter?).
WHAT
The evening will consist of music, silent auction items to peruse and bid on, Purple Ribbon Project student art on display, a buffet dinner, speakers, and finally a live auction where you can bid on a vacation package and a couple of other exciting items, followed by more live, danceable music as we process payments for your auction treasures.
Wear purple and/or red to make the evening more festive!
WHERE
Xilinx has long been a supporter of the Cystic Fibrosis Foundation and they have donated the use of their Summit Retreat Center at 3100 Logic Drive, located just off Highway 119 on the SW corner of Longmont, Colorado. It is a beautiful venue, and you might enjoy a stroll around the grounds as you contemplate your silent auction choices and digest your dinner.
WHEN
Saturday, May 30, from 5-9pm (please note, this is after Memorial Day weekend!)
WHY
LS&G riders say, "We race so kids can breathe."
The Purple Ribbon Project founder says, "As the mother of a child with cystic fibrosis (CF), I have a very personal interest in helping the CF Foundation find a cure for CF, so I formed the Purple Ribbon Project to increase awareness of cystic fibrosis and to facilitate fundraising efforts to support research for a cure."
CF is an uncommon condition, affecting only about 30,000 people in the United States. 50+ years ago the life expectancy for someone with CF was only about 5-6 years old. Now it's approaching 40 years old, thanks in large part to the efforts of the CF Foundation, plus others who are working tirelessly to find a cure. We're getting closer every day.
Please register early so we can plan food quantities and try to accommodate special dietary needs.